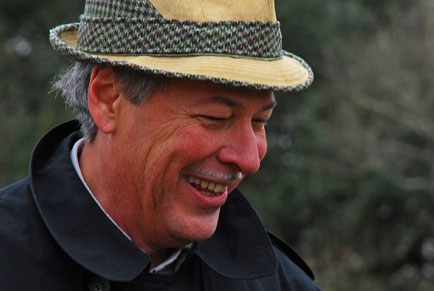 Pat Mire is a prize-winning documentary and narrative fiction filmmaker based in Lafayette, Louisiana. Mire's cultural documentaries have been aired nationally in the United States on PBS, the Discovery Channel, and other television and on-line networks and have won awards in national and international competitions, including the Margaret Mead Film Festival and the American Anthropological Film Festival, at which he won the coveted "Award of Excellence."

Mire's feature film debut, Dirty Rice, was an official entry at the 1998 London Film Festival, where it played to two sold-out auditoriums. Neil Norman, film critic for the London Evening Standard, reviewed the film and wrote, "[w]hile the Big Easy, No Mercy, and more recently, Eve's Bayou have flirted with the Cajun world, this is the real deal, 100% proof. This is not to be missed."
Mire directed Against the Tide: The Story of the Cajun People, which was a November 2000 PBS "Pick of the Week," had a 49.3% market coverage, and was select Best Historical Documentary by PBS.
Clay Fourrier, executive producer of Louisiana Public Broadcasting, has recognized that Mire's work has led to a number of high-profile film projects with LPB that have been aired nationally on PBS and that have garnered "both LPB and Mr. Mire numerous awards, including nationally recognized Telly and NETA awards of excellence." According to Mr. Fourrier, all of these films highlight "the good things about South Louisiana and the Cajun culture." Fourrier adds that "in his films, Pat shows the contributions of real people, not Hollywood stereotypes, to our country. This is the underlying theme of all of his work."
Pat Mire is founder and artistic director of Cinema on the Bayou Film Festival in Lafayette Louisiana. Now in its 12th year, COTB was born when Hurricane Katrina canceled the New Orleans Film Festival. It is ranked in the top 15 winter film festivals in the U.S., and with over a thousand film submissions worldwide, it screened 198 films in January 2016, most of which were world, U.S. and Louisiana premieres.
Pat Mire was born on June 23, 1953, and grew up in a farming community near Eunice, Louisiana. He is an English and French-speaking Cajun, busy at correcting stereotypes and misconceptions about his beloved Cajun culture by presenting an insider's perspective.